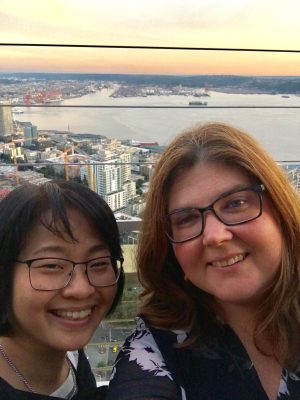 ToxStrategies Focuses on 21st-Century Toxicology
We are pleased to announce the formation of a new practice area focused on supporting the transition in toxicological science to in vitro and computational toxicology. Two leading experts in the field—Drs. Miyoung Yoon and Rebecca Clewell—have joined ToxStrategies. Together with Dr. Susan Borghoff, they will expand our current capabilities to include a broader coverage of in vitro–based science, computational toxicology, pharmacokinetics, and Adverse Outcome  Pathway-based safety assessments. The expertise they bring will broaden the firm's service capabilities and help our clients respond to the rapidly changing regulatory climate that is affecting many business sectors, including the chemical, agrichemical, consumer products, pharmaceutical, and cosmetics industries.
Dr. Miyoung Yoon
Dr. Yoon has led multiple research efforts to advance chemical safety science in the context of the new toxicity testing paradigm that is emerging, with new regulations and improved toxicological science. She has focused on the need to include metabolism and pharmacokinetics in developing alternative testing strategies. Dr. Yoon is an internationally recognized leader in the field of quantitative
in vitro
–to–
in vivo
extrapolation (IVIVE), a crucial element of the National Academy of Science's vision for toxicity testing in the 21
st
 century. She has been particularly interested in applying the emerging new tools and approaches to improve risk assessment for sensitive populations such as infants and children. She has contributed substantially to the field of children's risk assessment using life-stage physiologically based pharmacokinetic (PBPK) models, supported by targeted
in vitro
metabolism assays and IVIVE. Dr. Yoon's list of more than 50 publications includes both peer-reviewed articles and book chapters. She has been devoted to providing education and training to the toxicology community, including organizing a series of workshops and continuing-education courses on PBPK modeling and its applications—in particular, to IVIVE and children's risk assessment.Dr. Yoon will be based in Research Triangle Park, North Carolina, and can be reached by phone at 919-689-5150, or by e-mail at 
myoon@toxstrategies.com
.
Dr. Rebecca Clewell
Dr. Clewell is an internationally recognized expert on the development of in vitro and computational tools to support chemical safety decision making. With a passion for incorporating quantitative biology and a better understanding of chemical dose-response into chemical safety assessments, in recent years, Dr. Clewell has focused on designing in vitro systems with the biological fidelity to accurately predict human response—in terms of both toxicological outcome and concentration response—and on developing strategies to use these in vitro–based points of departure for risk-based decision making. She has worked with industry and government around the globe to identify tools and technologies that are needed to build confidence in this new era of toxicology and to develop a framework for chemical testing using primarily in vitro and in silico approaches. This framework, which uses high-throughput screening approaches for chemical triage and biologically complex in vitro systems, and computational pathway models to evaluate chemical dose-response, supports chemical decisions from early screening prioritization to in-depth evaluation of dose response and margins of exposure. She has also worked with industry and government to provide practical examples of how these strategies can be used for decision making. Together with the team of experts at ToxStrategies, Dr. Clewell will focus on improving the utility of high-throughput and high-content data for meeting client needs for rapid chemical response prediction, along with incorporation of transcriptomics, in vitro toxicology, IVIVE, and exposure assessment to inform chemical safety decisions for the chemical, consumer product, pharmaceutical, and agrichemical industries.
Dr. Clewell will be based in Research Triangle Park, North Carolina, and can be reached by phone at 919-928-6783, or by e-mail at rclewell@toxstrategies.com.