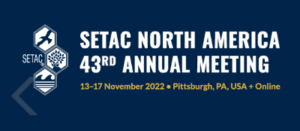 ToxStrategies is excited to be presenting again at The Society of Environmental Toxicology and Chemistry (SETAC) Annual Meeting, November 13th through 17th.  The meeting is available in person, located in Pittsburgh, PA, or through virtual attendance, for all registered attendees.
Please click on the poster image or icon below to view the full abstract and presentation information.
Jennifer Bare, B.S.: Example Framework for Chemical Additive Replacement Prioritization in a Circular Economy for Plastics: Human Health Perspective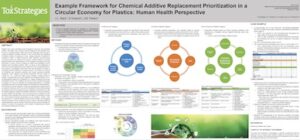 Deborah Proctor, B.S.: Probabilistic Health Risk Assessment for Residential Exposures to Metals in Electric Arc Furnace (EAF) Steel Slag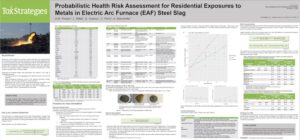 Stephanie LaPlaca, M.S., Ph.D.: Multi-Step Integration of Ecotoxicological Study Reliability in Ecological Risk Assessment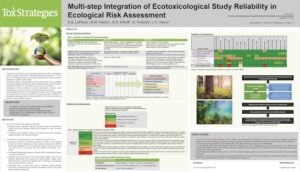 Melissa Heintz, Ph.D.: Application of an Integrated Ecotoxicological Study Reliability Tool in the Derivation of Predicted No-Effect Concentrations for Short Chain and Ultrashort Chain Per- and Polyfluoroalkyl Substances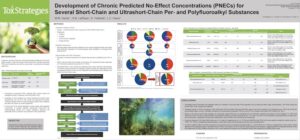 Workshops and Sessions

Life at the Fenceline — State-of-the-Science Exposure Assessment for Communities Adjacent to Industrial Facilities, Dr. William Rish, Co-Chair.

Data and Methods to Support Cumulative Risk and Impact Assessments, Dr. William Rish, Co-Chair.

  Improving Community Exposure Assessment Using Personal and Local Monitors, LeeAnn Racz, Ph.D., P.E., C.I.H., B.C.E.E.

 Using NHANES Data to Quantify the Magnitude of Allostatic Load in Relation to Existing Risk Assessment Uncertainty/Variability Factors, William Klaren, Ph.D., DABT

Short-Term Environmental Inhalation Toxicity Criteria for Airborne Manganese Protective of Neurological and Respiratory Effects for use in Air Toxics Risk Assessment, Camarie Perry, M.S.